Graphic and Specialty Print Media
SYNAPS XM
Synthetic paper made from high-grade polyester film with superior dimensional stability and unmatched lay-flat characteristics.
Print Compatibility: Digital Dry Toner/Laser. For offset, HP Indigo, latex and UV wide format compatibility, visit SYNAPS OM
Product Information
Minimal scrap, waste and time compared to traditional lamination
Waterproof, tear-proof and weather resistant - suitable for indoor and outdoor applications
Double sided matte white finish
Superior dimensional stability for precise registration
Antistatic top coating ensures strong toner adhesion and smooth feeding through the printer
Rigid and lays flat
Die cut, perforate, UV varnish and scoring capabilities
Writable with pencil, ball point pen or marker
Applications
Menus
Maps
Manuals & catalogs
Shelf talkers & wobblers 
Membership & I.D. Cards
Direct mail
Plant stakes
Scored table tents
Door hangers
Recipe cards
Media
6 items available
Image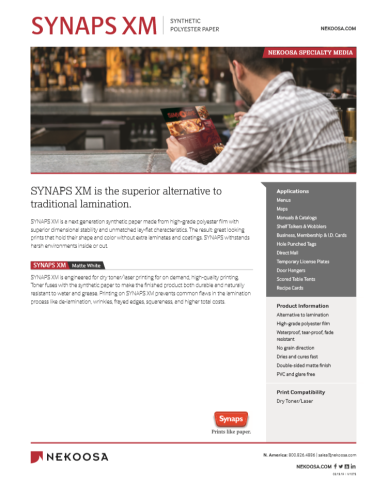 SYNAPS XM Product Overview
General product information, features, benefits, print compatibility and applications.
Image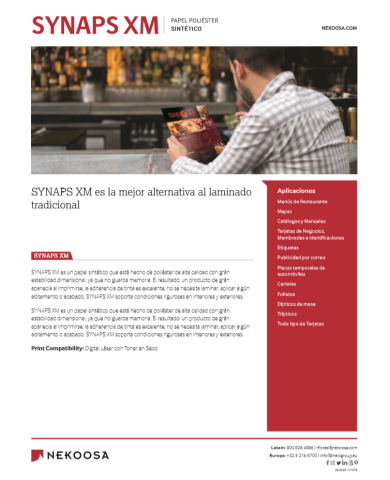 SYNAPS XM Visión General del Producto en Español
Image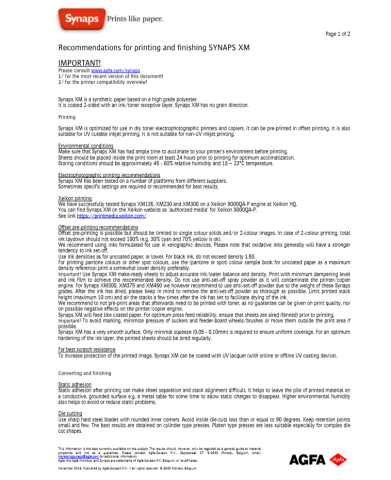 SYNAPS XM Printing Recommendations
SYNAPS XM is optimized for use in dry toner electrophotographic printers and copiers. It can be pre-printed in offset printing. It is also suitable for UV curable inkjet printing.
Image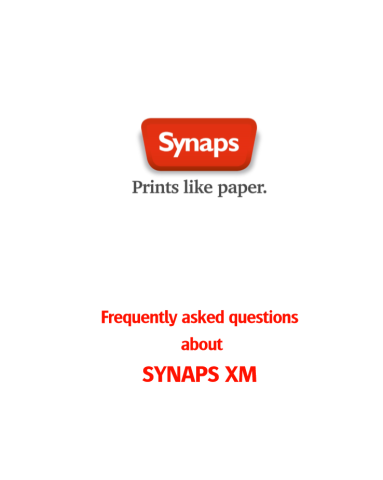 SYNAPS XM Frequently Asked Questions
FAQ document for SYNAPS XM overviewing print compatibility, finishing methods, sun exposure, water resistance, etc.
Image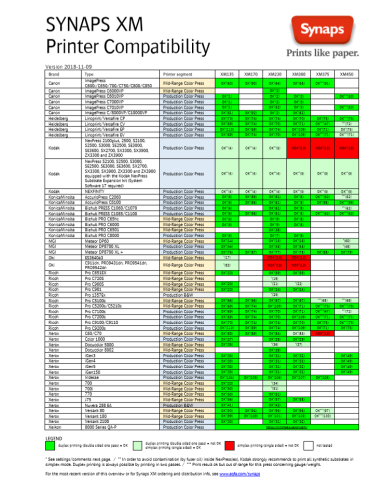 SYNAPS XM Printer Compatibility
Printer compatibility chart for SYNAPS XM on brands including: Canon, Heidelberg, Kodak, KonicaMinolta, MGI, Oki, Ricoh, Xerox and Xeikon.
Product
SYNAPS XM 5 mil
Available in digital cut size sheets for digital dry toner/laser printing
---
SYNAPS XM 8 mil
Available in digital cut size sheets for digital dry toner/laser printing
---
SYNAPS XM 8 mil ID Card
8.5"x11" 8UP die-cut ID cards
Compatible with digital dry toner/laser printers
---
SYNAPS XM 10 mil
Available in digital cut size sheets for digital dry toner/laser printing
---
SYNAPS XM 12 mil
Available in digital cut size sheets for digital dry toner/laser printing
---
SYNAPS XM 14 mil
Available in digital cut size sheets for digital dry toner/laser printing
---