Image

Graphic and Specialty Print Media
Walk-On Graphics®
The Walk-On Graphics® two part system includes a printable vinyl base film and a UL 410 approved slip resistant overlaminate to create durable floor graphic applications.
Print Compatibility: Wide Format (Solvent, Eco-Solvent, Latex and UV), Offset (Conventional and UV) and Screen
Product Information
Recommended for use on smooth, clean, flat surfaces like tile, sealed wood, ceramic tile vinyl and sealed concrete -options also available for carpet applications
4 mil. printable vinyl base film available in white or clear finishes with removable adhesive
4 mil. clear double polished and 6 mil. clear embossed UL410 certified overlaminates options
Suitable for indoor short term floor graphics (<6 months)
Graphics withstand normal floor maintenance and cleaning
Made in the U.S.A.
Vinyl base film and overlaminates are available in standard 54"x50 yd. rolls for wide format printing
Custom sheet and rolls for offset and screen printing available upon request
Applications
Wayward floor graphics
Floor advertising graphics
P.O.P. floor signage
Counter mats
Social distancing floor graphics
Directional arrows
Media
3 items available
Image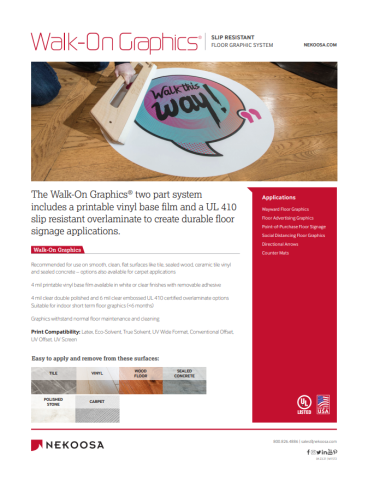 Walk-On Graphics® Product Overview
General product information, features, benefits, print compatibility and applications.
Image
Walk-On Graphics® Installation and Removal Guidelines
Recommendations for installing Walk-On Graphics®, surface area chart and step-by-step tips on how to properly install and remove the substrate.
Image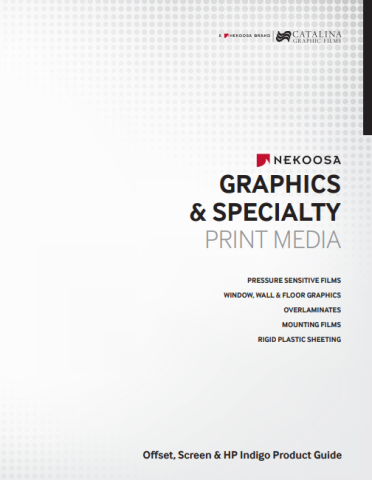 Graphics & Specialty Print Media Guide
Specialty substrates to fit all your floor, wall and window graphic needs - look to Nekoosa for pressure sensitive films, overlaminate films, mounting films and rigid plastic sheeting for offset, screen and HP Indigo printing.
Product
Walk-On Floor Graphics 4 mil. Matte White
Available in wide format rolls
Compatible with eco-solvent, latex, UV wide format, UV offset and screen
Custom sheet and roll options available
Suitable for hard surface floors - wood, tile, stone, smooth sealed concrete

---
Walk-On Floor Graphics 4 mil. Matte White Top Coated
Custom sheet and roll options available
Compatible with UV offset, conventional offset and screen
Suitable for hard surface floors - wood, tile, stone, smooth sealed concrete

---
Walk-On Floor Graphics 4 mil. Gloss Clear
Available in wide format rolls
Compatible with eco-solvent, latex, UV wide format, UV offset and screen
Custom sheet and roll options available
Suitable for hard surface floors - wood, tile, stone, smooth sealed concrete

---
Walk-On Floor Graphics 4 mil. Gloss Clear Top Coated
Custom sheet and roll options available
Compatible with UV offset, conventional offset and screen
Suitable for hard surface floors - wood, tile, stone, smooth sealed concrete

---
Walk-On Carpet Graphics 4 mil. Matte White
Available in wide format rolls
Compatible with eco-solvent, latex, UV wide format, UV offset and screen
Custom sheet and roll options available
Suitable for soft surface floors - carpet, cork, marley, vinyl

---
Walk-On Carpet Graphics 4 mil. Matte White Top Coated
Custom sheet and roll options available
Compatible with UV offset, conventional offset and screen
Suitable for soft surface floors - carpet, cork, marley, vinyl

---
Walk-On Carpet Graphics 4 mil. Gloss Clear
Available in wide format rolls
Compatible with eco-solvent, latex, UV wide format, UV offset and screen
Custom sheet and roll options available
Suitable for soft surface floors - carpet, cork, marley, vinyl

---
Walk-On Carpet Graphics 4 mil. Gloss Clear Top Coated
Custom sheet and roll options available
Compatible with UV offset, conventional offset and screen
Suitable for soft surface floors - carpet, cork, marley, vinyl

---
Overlaminate - 4 mil. Calendered Flexible Vinyl Double Polished/Optically Clear
4 mil. double polished/optically clear calendeared vinyl
Clear film liner
UV protection

---
Overlaminate - 6 mil. Calendered Rigid Vinyl Clear Embossed
6 mil. clear embossed vinyl
Clear film liner
Scratch resistant

---