Image

Graphic and Specialty Print Media
Classic Vinyl
Intended for high quality interior and exterior decal applications that require durability and flexibility, Classic Vinyl has high strength permanent adhesive and is easy to install on flat and simple curves.
Print Compatibility: Latex, UV inkjet, eco-solvent and true solvent wide format inks
Product Information
Suitable for indoor and outdoor applications (<3 years outdoors)
Grades with removable adhesive will remove cleanly from surfaces within 1 year
Matte or gloss bright white finish
Clear or gray block-out; permanent or removable pressure sensitive adhesive
Air-egress options available
Easy installation onto flat and simple curves without rivets
Made in the U.S.A.
Applications
Banner graphics
Cut lettering
Decals & bumper stickers
P.O.P. signage
Fleet markings
In-store promotions
Media
2 items available
Image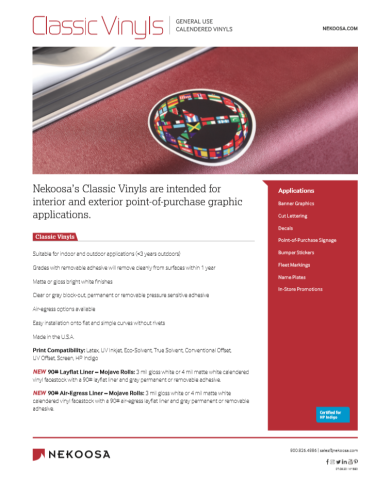 Classic Vinyl Product Overview
General product information, features, benefits, print compatibility and applications.
Image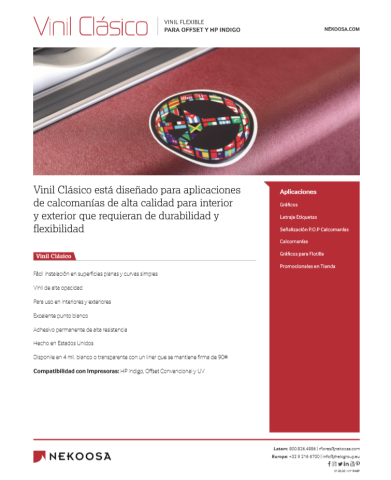 Vinilo Clásico Visión General del Producto en Español
Información General del Producto, Características, Beneficios, Compatibilidad de Impresión y Aplicaciones.
Product
3 mil. Gloss White Gray Removable Adhesive - 90# Liner
90# stayflat paper liner
Available in wide format rolls
Compatible with eco-solvent, latex, UV wide format, UV offset and screen

---
3 mil. Gloss White Gray Removable Adhesive - 90# Air-Egress Liner
90# stayflat air-egress paper liner
Available in wide format rolls
Compatible with eco-solvent, latex, UV wide format, UV offset and screen
---
3 mil. Gloss White Permanent Adhesive - 78# Liner
78# paper liner
Available in wide format rolls
Compatible with eco-solvent, latex, UV wide format, UV offset and screen

---
3 mil. Gloss White Gray Permanent Adhesive - 78# Liner
78# paper liner
Available in wide format rolls
Compatible with eco-solvent, latex, UV wide format, UV offset and screen

---
3 mil. Gloss White Gray Permanent Adhesive - 90# Liner
90# stayflat paper liner
Available in wide format rolls
Compatible with eco-solvent, latex, UV wide format, UV offset and screen

---
3 mil. Gloss White Gray Permanent Adhesive - 90# Air-Egress Liner
90# stayflat air-egress paper liner
Available in wide format rolls
Compatible with eco-solvent, latex, UV wide format, UV offset and screen

---
4 mil. Matte White Gray Removable Adhesive - 90# Liner
90# stayflat paper liner
Available in wide format rolls
Compatible with eco-solvent, latex, UV wide format, UV offset and screen

---
4 mil. Matte White Gray Removable Adhesive - 90# Air-Egress Liner
90# stayflat air-egress paper liner
Available in wide format rolls
Compatible with eco-solvent, latex, UV wide format, UV offset and screen

---
4 mil. Matte White Permanent Adhesive - 78# Liner
78# paper liner
Available in wide format rolls
Compatible with eco-solvent, latex, UV wide format, UV offset and screen

---
4 mil. Matte White Gray Permanent Adhesive - 78# Liner
78# paper liner
Available in wide format rolls
Compatible with eco-solvent, latex, UV wide format, UV offset and screen

---
4 mil. Matte White Gray Permanent Adhesive - 90# Liner
90# stayflat paper liner
Available in wide format rolls
Compatible with eco-solvent, latex, UV wide format, UV offset and screen

---
4 mil. Matte White Gray Permanent Adhesive - 90# Air-Egress Liner
90# stayflat air-egress paper liner
Available in wide format rolls
Compatible with eco-solvent, latex, UV wide format, UV offset and screen

---