Image

Graphic and Specialty Print Media
Classic Vinyl
Nekoosa's Classic Vinyls are intended for interior and exterior point-of-purchase graphic applications.
Print Compatibility: Latex, UV inkjet, eco-solvent and true solvent wide format inks
Product Information
Suitable for indoor and outdoor applications (<3 years outdoors)
Grades with removable adhesive will remove cleanly from surfaces within 1 year
Matte or gloss bright white finish
Clear or gray block-out; permanent or removable pressure sensitive adhesive
Air-egress options available
Easy installation onto flat and simple curves without rivets
Made in the U.S.A.
Applications
Banner graphics
Cut lettering
Decals & bumper stickers
P.O.P. signage
Fleet markings
In-store promotions
Media
2 items available
Image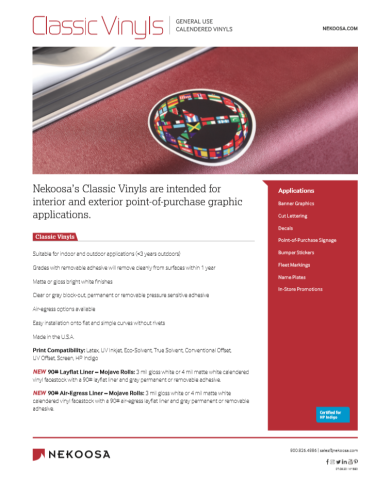 Classic Vinyl Product Overview
General product information, features, benefits, print compatibility and applications.
Product
3 mil. Gloss White Gray Removable Adhesive - 90# Liner
90# stayflat paper liner
Available in wide format rolls
Compatible with eco-solvent, latex, UV wide format, UV offset and screen

---
3 mil. Gloss White Gray Removable Adhesive - 90# Air-Egress Liner
90# stayflat air-egress paper liner
Available in wide format rolls
Compatible with eco-solvent, latex, UV wide format, UV offset and screen
---
3 mil. Gloss White Permanent Adhesive - 78# Liner
78# paper liner
Available in wide format rolls
Compatible with eco-solvent, latex, UV wide format, UV offset and screen

---
3 mil. Gloss White Gray Permanent Adhesive - 78# Liner
78# paper liner
Available in wide format rolls
Compatible with eco-solvent, latex, UV wide format, UV offset and screen

---
3 mil. Gloss White Gray Permanent Adhesive - 90# Liner
90# stayflat paper liner
Available in wide format rolls
Compatible with eco-solvent, latex, UV wide format, UV offset and screen

---
3 mil. Gloss White Gray Permanent Adhesive - 90# Air-Egress Liner
90# stayflat air-egress paper liner
Available in wide format rolls
Compatible with eco-solvent, latex, UV wide format, UV offset and screen

---
4 mil. Matte White Gray Removable Adhesive - 90# Liner
90# stayflat paper liner
Available in wide format rolls
Compatible with eco-solvent, latex, UV wide format, UV offset and screen

---
4 mil. Matte White Gray Removable Adhesive - 90# Air-Egress Liner
90# stayflat air-egress paper liner
Available in wide format rolls
Compatible with eco-solvent, latex, UV wide format, UV offset and screen

---
4 mil. Matte White Permanent Adhesive - 78# Liner
78# paper liner
Available in wide format rolls
Compatible with eco-solvent, latex, UV wide format, UV offset and screen

---
4 mil. Matte White Gray Permanent Adhesive - 78# Liner
78# paper liner
Available in wide format rolls
Compatible with eco-solvent, latex, UV wide format, UV offset and screen

---
4 mil. Matte White Gray Permanent Adhesive - 90# Liner
90# stayflat paper liner
Available in wide format rolls
Compatible with eco-solvent, latex, UV wide format, UV offset and screen

---
4 mil. Matte White Gray Permanent Adhesive - 90# Air-Egress Liner
90# stayflat air-egress paper liner
Available in wide format rolls
Compatible with eco-solvent, latex, UV wide format, UV offset and screen

---