Image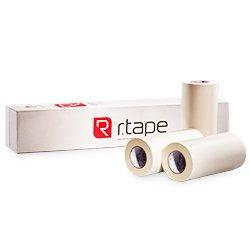 Application Tapes and Premasks
RTape Conform® with RLA®
RTape Conform® is the original application tape with RLA® Release Liner Adhesion. With RLA, RTape Conform sticks to slick release liners so tapes do not "dog ear" and stick together.
Product Information
RLA® Release Liner Adhesion
Factory cut, razor slit rolls
Always lays flat with no edge curling, wrinkling or tunneling
No adhesive balls or gapping between layers or crushed edges
Adhesive will not build up on stored graphics
Graphics stay neater and cleaner even when rolled
Works in either wet or dry applications
Multiple roll widths available
Applications
General purpose sign applications
Decals
Banners
Wall graphics
Media
3 items available
Image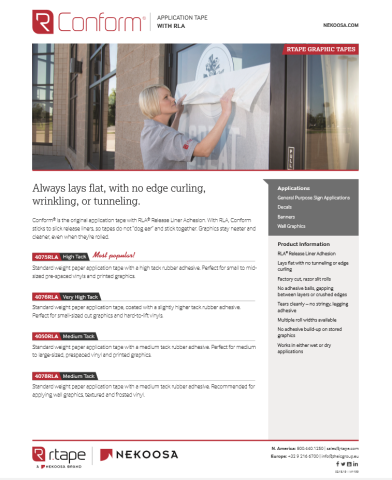 Conform® Series with RLA® Product Overview
General product information, features, benefits, print compatibility and applications.
Image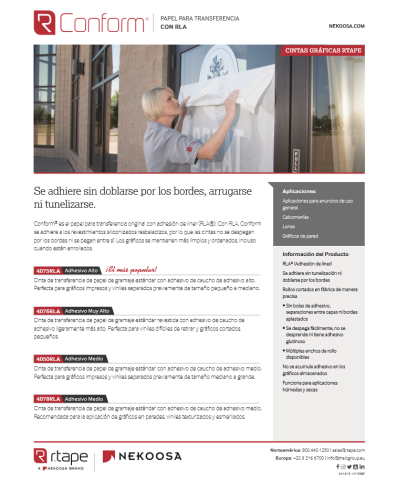 Conform® con RLA® Visión General del Producto en Español
Información General del Producto, Características, Beneficios, Compatibilidad de Impresión y Aplicaciones.
Image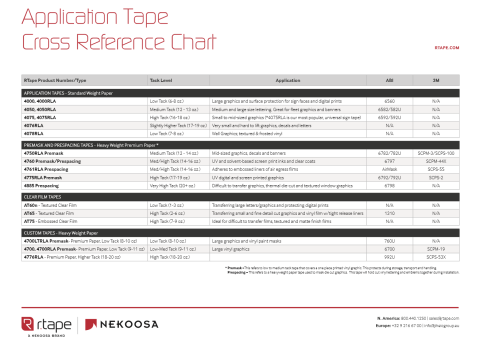 Application Tape Cross Reference Chart
In need of a reference point for RTape Application Tapes? Look no further!
Product
Conform 4000RLA Low Tack
Standard weight paper protective premask
Low tack rubber adhesive
---
Conform 4050RLA Medium Tack
Standard weight paper application tape
Medium tack rubber adhesive
---
Conform 4075RLA High Tack
Our most popular application tape
Standard weight paper application tape
High tack rubber adhesive
---
Conform 4076RLA Extra High Tack
Standard weight paper application tape
Extra high tack rubber adhesive
---
Conform 4078RLA Medium Tack for Wall Graphics
Standard weight paper application tape for wall graphic applications
Medium tack rubber adhesive
---
Conform 4750RLA Medium Tack
Heavyweight paper prespacing tape
Medium tack rubber adhesive
---
Conform 4760RLA Medium Tack for UV Prints
Heavyweight paper premask/prespacing tape
Medium/high tack rubber adhesive
---
Conform 4761RLA Medium Tack for Air-Egress Vinyls
Heavyweight paper prespacing tape for air egress vinyls
High tack rubber adhesive
---
Conform 4775RLA High Tack
Heavyweight paper prespacing tape
High tack rubber adhesive
---