Image

Graphic and Specialty Print Media
Sign-Ad®
Sign-Ad® is a flexible calendered vinyl coated with a low or moderate-tack adhesive for easy-to-apply window graphics.
Print Compatibility: Wide Format (Solvent, Eco-Solvent, Latex and UV), Offset (Conventional and UV) HP Indigo and Screen
Product Information
Removable adhesive
Easy to remove without leaving adhesive residue behind
No solvents needed for application or removal
For indoor or outdoor window graphic applications (<3 years outdoors)
1 year clean removability from application surface
Available in folio sheets, digital cut size sheets and wide format rolls in a variety of finish/liner combinations
Made in the U.S.A.
Sign-Ad® Gloss White Opaque: 100% opaque 6 mil. bright gloss white vinyl facestock with a 90# paper liner and moderate-tack white removable adhesive. Laminate to a clear Sign-Ad® or Hi-Stat® product to easily create 'push-pull' two way signage.
Sign-Ad® Clear Air-Egress: 4 mil. clear vinyl facestock with a clear film air-egress liner and clear low-tack/low-peel removable adhesive. Engineered so installers of all skill levels can easily apply and remove window graphics.
Applications
Window graphics
Point-of-purchase window advertisements
One-way window displays
Double-sided window signage
Opaque window graphics
Optically clear window graphics
Price stickers
Counter mats
Media
8 items available
Image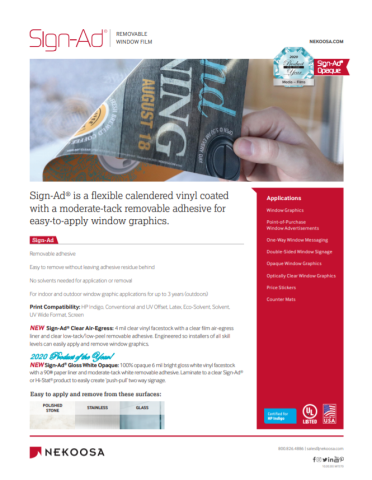 Sign-Ad® Product Overview
General product information, features, benefits, print compatibility and applications.
Learn more about printing on Sign-Ad® Opaque 6 mil, gloss white vinyl.
Image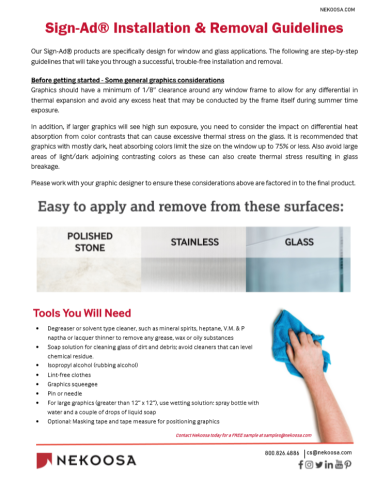 Sign-Ad® Installation and Removal Instructions
Recommendations for installing Sign-Ad®, surface area chart and step-by-step tips on how to cleanly remove the substrate.
Image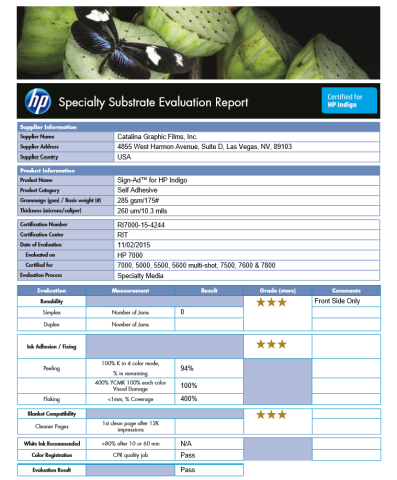 Sign-Ad® White Certification
HP, RIT Specialty Substrate Evaluation Report for Sign-Ad® White for HP Indigo.
Image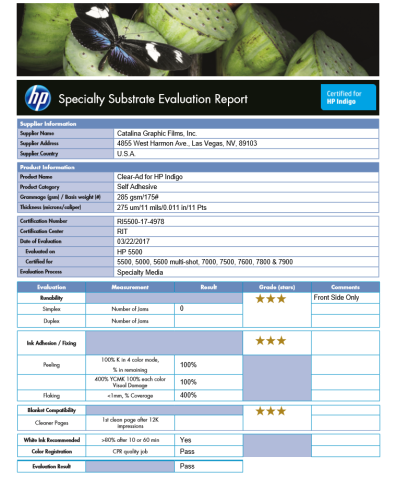 Sign-Ad® Clear Certification
HP, RIT Specialty Substrate Evaluation Report for Sign-Ad® Clear for HP Indigo.
Image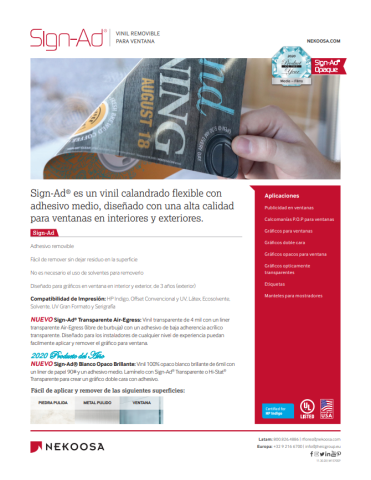 Sign-Ad® Visión General del Producto en Español
Información General del Producto, Características, Beneficios, Compatibilidad de Impresión y Aplicaciones.
Image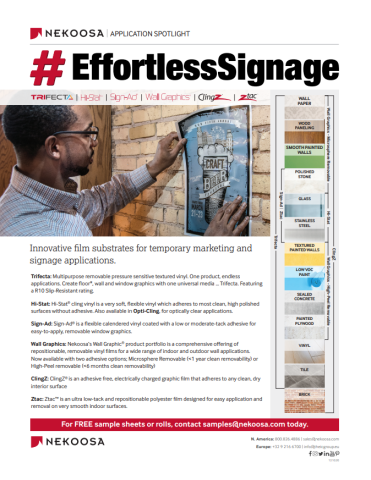 Effortless Signage Portfolio Spotlight
The Effortless Signage product offering is comprised of products that are easy to install, reposition and remove…virtually, effortlessly. Click to download a .PDF covering applications, surface areas and product information.
Image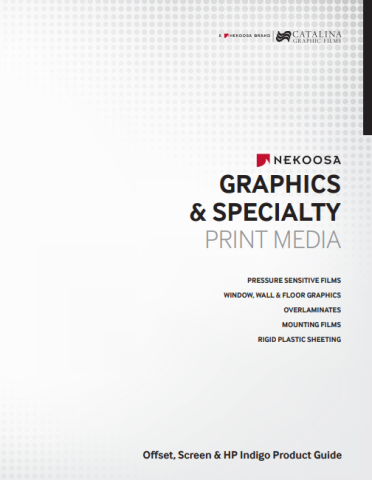 Graphics & Specialty Print Media Guide
Specialty substrates to fit all your floor, wall and window graphic needs - look to Nekoosa for pressure sensitive films, overlaminate films, mounting films and rigid plastic sheeting for offset, screen and HP Indigo printing.
Product
Sign-Ad 4 mil. Matte White w/90# Stayflat Liner
Available in wide format rolls and digital cut size sheets
Compatible with eco-solvent, latex, UV wide format, UV offset and screen
Certified for HP Indigo
Custom sheeting options available
1 year of outdoor durability


---
Sign-Ad 4 mil. Matte White Top Coated w/90# Stayflat Liner
Available in folio size sheets
Compatible with conventional and UV offset
Custom sheeting options available
1 year of outdoor durability
---
Sign-Ad 4 mil. Matte White - 90# Stayflat Air-Egress Liner
Available in wide format rolls and digital cut size sheets
Compatible with eco-solvent, latex, UV wide format, UV offset and screen
Custom sheeting options available
Up to 3 years of outdoor durability
---
Sign-Ad 6 mil. Opaque Gloss White - 90# Stayflat Liner
Available in wide format rolls
Compatible with eco-solvent, latex, UV wide format and screen
Moderate-tack removable adhesive
1 year of outdoor durability

---
Sign-Ad 4 mil. Gloss Clear - 90# Stayflat Liner
Available in wide format rolls and digital cut size sheets
Compatible with eco-solvent, latex, UV wide format, UV offset and screen
Certified for HP Indigo
Custom sheeting options available
1 year of outdoor durability

---
Sign-Ad 4 mil. Gloss Clear Top Coated - 90# Stayflat Liner
Available in folio size sheets
Compatible with conventional and UV offset
Custom sheeting options available
1 year of outdoor durability
---
Sign-Ad 4 mil. Gloss Clear - 90# Stayflat Air-Egress Liner
Available in wide format rolls and folio size sheets
Compatible with eco-solvent, latex, UV wide format, UV offset and screen
Custom sheeting options available
Up to 3 years of outdoor durability

---
Sign-Ad Plus 4 mil. Optically Clear - Clear Film Liner
Available in wide format rolls and folio size sheets
Compatible with eco-solvent, latex, UV wide format, UV offset and screen
Custom sheeting options available
1 year of outdoor durability
---