Graphic and Specialty Print Media
Sign-Ad®
Flexible calendered vinyl coated with a low-tack removable adhesive for easy-to-apply window graphics.
Print Compatibility: Solvent, eco-solvent, latex and UV wide format, HP Indigo and offset printers
Features
White or clear flexible vinyl
Moderate-tack removable adhesive 
90# stayflat paper or clear film liner
For indoor and outdoor use (up to 3 years outdoors)
Made in the U.S.A.
Benefits
Easy removal without leaving a trace of residue behind
No solvents needed for application or removal
Applications
Optically clear, opaque window graphics
P.O.P. window advertisements
One-way window messaging
Price stickers
Counter mats
Media
2 items available
Image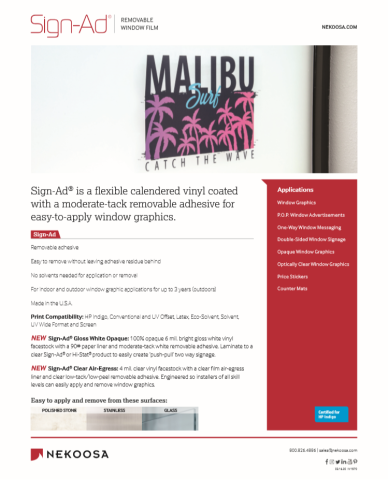 Sign-Ad® Product Overview
General product information, features, benefits, print compatibility and applications.
Learn more about printing on Sign-Ad® Opaque 6 mil, gloss white vinyl.
Product
Sign-Ad 4 mil. Matte White w/90# Stayflat Liner
Available in wide format rolls and digital cut size sheets
Compatible with eco-solvent, latex, UV wide format, UV offset and screen
Certified for HP Indigo
Custom sheeting options available
1 year of outdoor durability


---
Sign-Ad 4 mil. Matte White Top Coated w/90# Stayflat Liner
Available in folio size sheets
Compatible with conventional and UV offset
Custom sheeting options available
1 year of outdoor durability
---
Sign-Ad 4 mil. Matte White - 90# Stayflat Air-Egress Liner
Available in wide format rolls and digital cut size sheets
Compatible with eco-solvent, latex, UV wide format, UV offset and screen
Custom sheeting options available
Up to 3 years of outdoor durability
---
Sign-Ad 6 mil. Opaque Gloss White - 90# Stayflat Liner
Available in wide format rolls
Compatible with eco-solvent, latex, UV wide format and screen
Moderate-tack removable adhesive
1 year of outdoor durability

---
Sign-Ad 4 mil. Gloss Clear - 90# Stayflat Liner
Available in wide format rolls and digital cut size sheets
Compatible with eco-solvent, latex, UV wide format, UV offset and screen
Certified for HP Indigo
Custom sheeting options available
1 year of outdoor durability

---
Sign-Ad 4 mil. Gloss Clear Top Coated - 90# Stayflat Liner
Available in folio size sheets
Compatible with conventional and UV offset
Custom sheeting options available
1 year of outdoor durability
---
Sign-Ad 4 mil. Gloss Clear - 90# Stayflat Air-Egress Liner
Available in wide format rolls and folio size sheets
Compatible with eco-solvent, latex, UV wide format, UV offset and screen
Custom sheeting options available
Up to 3 years of outdoor durability

---
Sign-Ad Plus 4 mil. Optically Clear - Clear Film Liner
Available in wide format rolls and folio size sheets
Compatible with eco-solvent, latex, UV wide format, UV offset and screen
Custom sheeting options available
1 year of outdoor durability
---