Image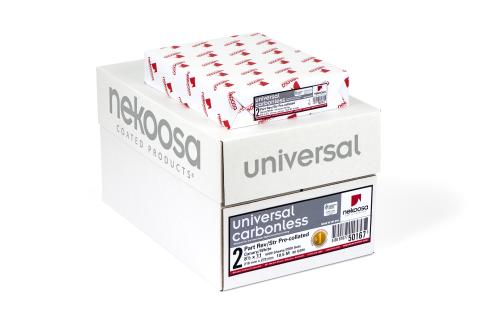 Universal Carbonless
Universal carbonless sheets are engineered for long-run offset and quick turn around on-demand digital dry toner/laser printing.
Product Information
Run on offset or digital dry toner/laser presses
Quick and easy variable data, numbering and barcoding with digital printing methods
Consistent crisp, dark, legible images through each ply
Thickest, stiffest sheet for best runnability
Custom sizes available - can be collated and micro perfed
Nekoosa Bucks available in select cartons of 8.5"x11" and 11"x17"
SFI® certified
Made in the U.S.A.
Applications
Multipart forms
Variable data forms
Barcoded forms
Service receipts
Repair order forms
Parking tickets
Purchase order forms
Packing slips
Bank books
Medical forms
Retail receipts
Automotive service receipts
Legal forms
Media
1 item available
Image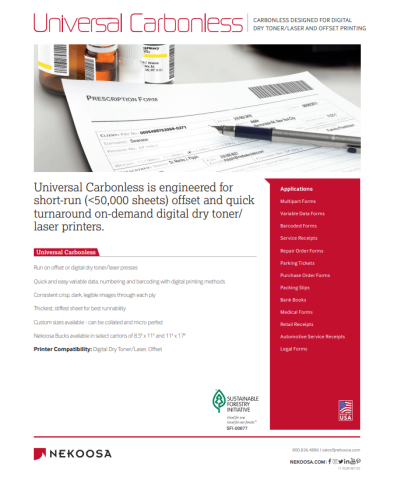 Universal Carbonless Product Overview
General product information, features, benefits, print compatibility and applications.
Product
Universal 2-Part R/S (C/W)
Pre-collated 2-part reverse/straight sequence (canary/white)
Nekoosa Bucks available in select cartons

---
Universal 2-Part R/S (W/W)
Pre-collated 2-part reverse/straight sequence (white/white)

---
Universal 2-Part R/S (P/W)
Pre-collated 2-part reverse/straight sequence (pink/white)
Nekoosa Bucks available in select cartons

---
Universal 2-Part R/S (W/C)
Pre-collated 2-part straight/reverse sequence (white/canary)

---
Universal 3-Part REV (P/C/W)
Pre-collated 3-part reverse sequence (pink/canary/white)
Nekoosa Bucks available in select cartons

---
Universal 3-Part REV (W/W/W)
Pre-collated 3-part reverse sequence (white/white/white)
---
Universal 4-Part REV (G/P/C/W)
Pre-collated 4-part reverse sequence (goldenrod/pink/canary/white)
Nekoosa Bucks available in select cartons

---
Universal 5-Part REV (G/P/C/G/W)
Pre-collated 5-part reverse sequence (goldenrod/pink/canary/green/white)
---
Universal 3-Part STR (W/C/P)
Pre-collated 3-part straight sequence (white/canary/pink)
Nekoosa Bucks available in select cartons
---
Universal 4-Part STR (W/C/P/G)
Pre-collated 4-part straight sequence (white/canary/pink/goldenrod)
Nekoosa Bucks available in select cartons
---
Universal 5-Part STR (W/G/C/P/G)
Pre-collated 5-part straight sequence (white/green/canary/pink/goldenrod)

---
Universal 6-Part STR (W/B/G/C/P/G)
Pre-collated 6-part straight sequence (white/blue/green/canary/pink/goldenrod)

---
Universal 21# CB Single
Available in white, canary, pink, goldenrod, blue and green

---
Universal 23# CFB Single
Available in white, canary, pink, goldenrod, blue and green
---
Universal 21# CF Single
Available in white, canary, pink, goldenrod, blue and green

---
Universal 105# Single CF Tag
Available in white and manilla
---
Universal 2-Part Pre-Perfed R/S (C/W)
Micro perfed 40 teeth/inch
Pre-collated 2-part reverse/straight sequence (canary/white)

---
Universal 3-Part Pre-Perfed REV (P/C/W)
Micro perfed 40 teeth/inch
Pre-collated 3-part reverse sequence (pink/canary/white)

---
Universal 4-Part Pre-Perfed REV (G/P/C/W)
Micro perfed 40 teeth/inch
Pre-collated 4-part reverse sequence (goldenrod/pink/canary/white)

---
Universal 5-Part Pre-Perfed REV (G/P/C/G/W)
Micro perfed 40 teeth/inch
Pre-collated 5-part reverse sequence (goldenrod/pink/canary/green/white)

---
Ubniversal Carbonless Fan-Out Padding Adhesive
Create multipart forms with any Nekoosa carbonless grades with fan-out padding adhesive
---
Universal Carbonless Magnetic Cutter Clamp Pad
Protect carbonless forms during the trimming process with this magnetic guillotine cutter clamp pad
---