Image

Graphic and Specialty Print Media
Overlaminate Films
Overlaminates that enhance overall graphic depth while protecting printed materials from UV radiation, environmental elements, moisture and abrasion.
Product Information
Pressure activated high performance permanent adhesive
Excellent performance on flat or simple curves
Easy to finish - die cut or flatbed
Laminate to a similar substrate for best results
Made in the U.S.A.
Applications
Flat & simple curves
Printed graphics
Point-of-purchase displays
Wall graphics
Window graphics
Floor graphics
Exhibits
Trade show graphics
Transit
Displays
Dry erase graphics
Counter mats
Photographic prints
In-store signage
Media
1 item available
Image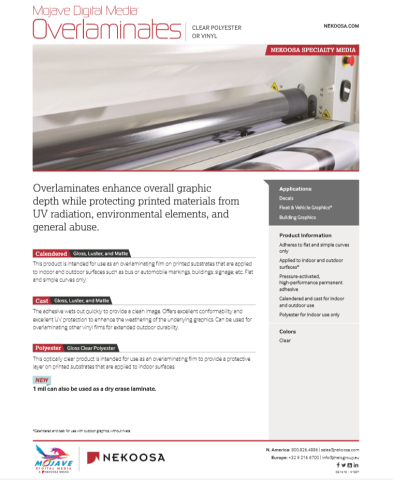 Overlaminate Films Product Overview
General product information, features, benefits, print compatibility and applications.
Product
Calendered Vinyl Overlaminate - 3 mil. Gloss Clear
5 year outdoor durability
53# paper liner
Custom roll options available

---
Calendered Vinyl Overlaminate - 3 mil. Luster Clear
5 year outdoor durability
53# paper liner
Custom roll options available

---
Calendered Vinyl Overlaminate - 3 mil. Matte Clear
5 year outdoor durability
53# paper liner
Custom roll options available
---
Calendered Vinyl Overlaminate - 4 mil. Optically Gloss Clear
5 year outdoor durability
Clear film liner
Custom roll options available
Can also be sold in Walk-On® floor graphic kits
UL 410 certified
---
Calendered Vinyl Overlaminate - 6 mil. Rigid Clear Embossed
Clear film liner
Custom roll options available
Can also be sold in Walk-On® floor graphic kits
UL 410 certified

---
Cast Vinyl Overlaminate - 2 mil. Gloss Clear
7 year outdoor durability
Clear film liner
---
Cast Vinyl Overlaminate - 2 mil. Matte Clear
7 year outdoor durability
Clear film liner
---
Dry Erase Polyester Overlaminate - 1 mil. Gloss Clear
Dry erasable; For indoor use only (<4 years)
Clear film liner
Custom roll options available
---
Polyester Overlaminate - 1 mil. Gloss Clear
For indoor use only (<4 years)
Clear film liner
Custom roll options available

---
Polyester Overlaminate - 2 mil. Gloss Clear
For indoor use only (<4 years)
Clear film liner
Custom roll options available

---