Image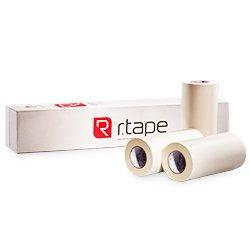 Application Tapes and Premasks
RTape Clear Choice®
Clear Choice® is an ultra-clear, application tape that provides exceptional performance and versatility for the widest range of sign applications. 
Features
Clear Film
Repositionable
Low to High tack adhesive available
Air-egress micro tunnels
Easy handling and removal
Exceptional lay flat and clarity
AT60n and AT65 Emboss/Finish:  Fine Texture for easy release/ unwind and installation
AT75.1 Emboss/Finish:  Heavy Surface Texture with Air Egress Micro tunnels
Benefits
Universal performance for a wide range of applications
Extended shelf life even after lamination
No milky residue when used for wet applications
Applications
Textured and matte finish vinyl films
Fine lettering
Textured wrap, window and wall films
Thermal die cuts
Media
2 items available
Image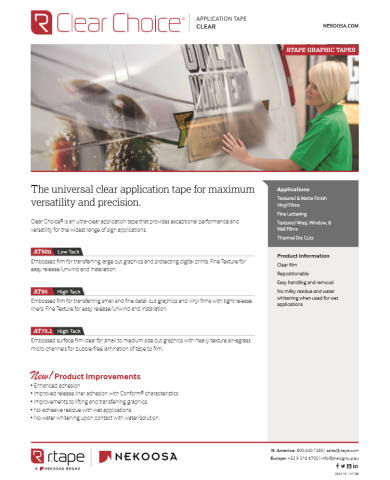 Clear Choice® Product Overview
General product information, features, benefits, print compatibility and applications.
Image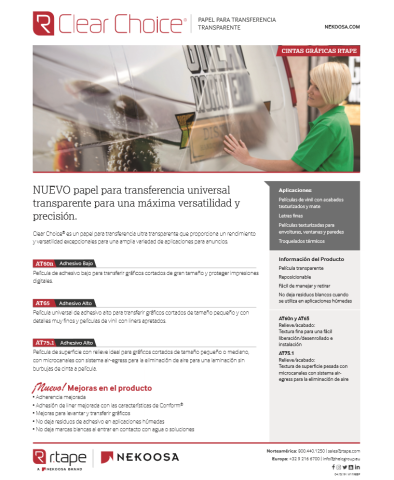 Clear Choice® Visión General del Producto en Español
Información General del Producto, Características, Beneficios, Compatibilidad de Impresión y Aplicaciones.
Product
Clear Choice AT60n Low Tack
Clear film application tape
Low tack acrylic adhesive
---
Clear Choice AT65 High Tack
Clear film application tape
High tack acrylic adhesive
---
Clear Choice AT75.1 High Tack Embossed Film
Embossed clear film application tape
High tack modified polyacrylate adhesive
---