Image

Graphic and Specialty Print Media
Premium Vinyl
Turn to Nekoosa's Premium Vinyls when you need to produce specific signage applications that require superior features including robust adhesive systems, liners and finishes.
Print Compatibility: Latex, UV inkjet, eco-solvent and true solvent wide format inks
Product Information
Suitable for indoor and outdoor applications (<*3-5 years outdoors)
Grades with removable adhesive will remove cleanly from surfaces within 1 year
High opacity films with an excellent white point
Matte white, gloss white or clear finish
Clear or gray block-out; permanent, removable, high-tack permanent pressure sensitive adhesive
Air-egress options available
Lay flat 90# release liner superior for printing with latex and UV wide format printers
Versatile product offering compatible for print and cut machines
3, 4 and 6 mil. thicknesses options available for easy installation onto flat or simple curves without rivets
Made in the U.S.A.
Applications
Banner graphics
Cut lettering
Decals & bumper stickers
P.O.P. signage
Fleet markings
In-Store promotions
Media
1 item available
Image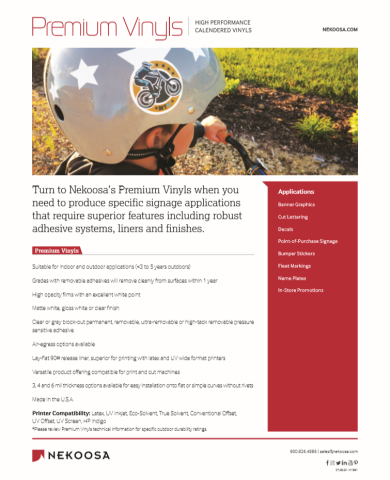 Premium Vinyls Product Overview
General product information, features, benefits, print compatibility and applications.
Product
4 mil. Clear Permanent Adhesive
90# stayflat liner
Available in wide format rolls
Compatible with eco-solvent, latex, UV wide format, UV offset and screen

---
3 mil. Gloss White Permanent Adhesive
90# stayflat liner
Available in wide format rolls
Compatible with eco-solvent, latex, UV wide format, UV offset and screen
Custom roll options available

---
3 mil. Gloss White Gray Removable Adhesive
90# stayflat liner
Available in wide format rolls
Compatible with eco-solvent, latex, UV wide format, UV offset and screen

---
3 mil. Gloss White Gray Removable Adhesive - Air Egress
90# stayflat air-egress liner
Available in wide format rolls
Compatible with eco-solvent, latex, UV wide format, UV offset and screen

---
3 mil. Gloss White Gray Removable Adhesive - Vehicle Wrap Vinyl
Design for vehicle wraps
90# stayflat air-egress liner
Available in wide format rolls
Compatible with eco-solvent, latex, UV wide format, UV offset and screen

---
3 mil. Gloss White Gray Permanent Adhesive
90# stayflat liner
Available in wide format rolls
Compatible with eco-solvent, latex, UV wide format, UV offset and screen

---
3 mil. Gloss White Gray Permanent Adhesive - Air Egress
90# stayflat air-egress liner
Available in wide format rolls
Compatible with eco-solvent, latex, UV wide format, UV offset and screen

---
3 mil. Gloss White High-Tack Permanent Adhesive
90# stayflat liner
Available in wide format rolls
Compatible with eco-solvent, latex, UV wide format, UV offset and screen

---
4 mil. Matte White Permanent Adhesive
90# stayflat liner
Available in wide format rolls
Compatible with eco-solvent, latex, UV wide format, UV offset and screen
Custom roll options available
---
4 mil. Matte White Gray Removable Adhesive
90# stayflat liner
Available in wide format rolls
Compatible with eco-solvent, latex, UV wide format, UV offset and screen

---
4 mil. Matte White Gray Removable Adhesive - Air Egress
90# stayflat air-egress liner
Available in wide format rolls
Compatible with eco-solvent, latex, UV wide format, UV offset and screen

---
4 mil. Matte White Gray Permanent Adhesive
90# stayflat liner
Available in wide format rolls
Compatible with eco-solvent, latex, UV wide format, UV offset and screen

---
4 mil. Matte White Gray Permanent Adhesive - Air Egress
90# stayflat air-egress liner
Available in wide format rolls
Compatible with eco-solvent, latex, UV wide format, UV offset and screen

---
4 mil. Matte White High-Tack Permanent Adhesive
90# stayflat liner
Available in wide format rolls
Compatible with eco-solvent, latex, UV wide format, UV offset and screen

---
4 mil. Matte White Removable Adhesive
90# stayflat liner
Available in wide format rolls
Compatible with eco-solvent, latex, UV wide format, UV offset and screen
Custom roll options available

---
6 mil. Matte White High-Tack Permanent Adhesive
90# stayflat liner
Available in wide format rolls
Compatible with eco-solvent, latex, UV wide format, UV offset and screen
---
10 mil. Matte White Premanent Adhesive
90# stayflat liner; Custom roll options available
---
6 mil. Gloss White Permanent Adhesive
90# stayflat liner
Available in wide format rolls
Compatible with eco-solvent, latex, UV wide format, UV offset and screen
Custom roll options available
---