Image

Graphic and Specialty Print Media
Trifecta™
One product, endless applications. Create floor, wall and window graphics with one universal media…Trifecta™. This multipurpose universal removable pressure sensitive textured vinyl in UL 410 slip resistance certified and made in the U.S.A.
Printer Compatibility:  Eco-Solvent, True Solvent, Latex, UV Wide Format, Screen, UV Offset
Product Information
6 mil semi-rigid matte white textured facestock rated for up to 5 years of outdoor use
High opacity film with an excellent white point
Universal removable adhesive that will cleanly remove from indoor and outdoor application surfaces for up to 6 months
Stable 90# layflat polycoated paper liner for ease of printing and installation
UL 410 slip resistance certified
Made in the U.S.A.
Applications
One-step floor graphics
Wall graphics
Window signage
Social distancing floor graphics
Counter mats
Posters
Wall décor
Wayward signage
Directional arrows
One-way window graphics
Floor advertisements
Point-of-purchase signage
Media
3 items available
Image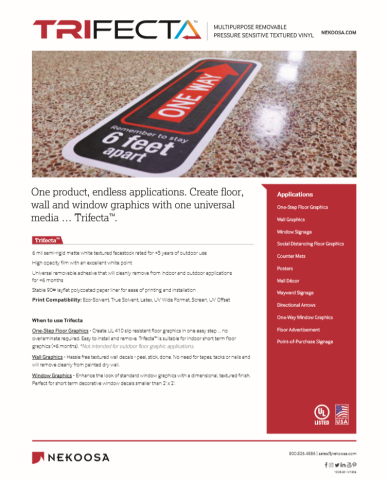 Trifecta™ Product Overview
General product information, features, benefits, print compatibility and applications.
Image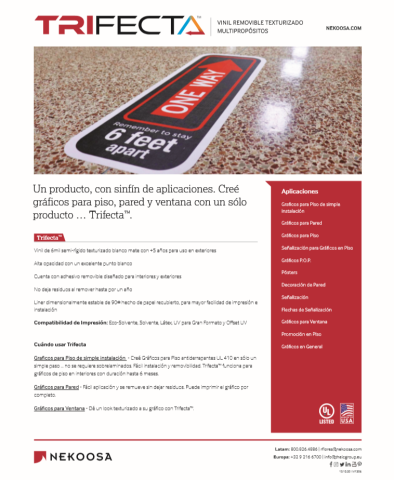 Trifecta™ Visión General del Producto en Español
Información General del Producto, Características, Beneficios, Compatibilidad de Impresión y Aplicaciones.
Image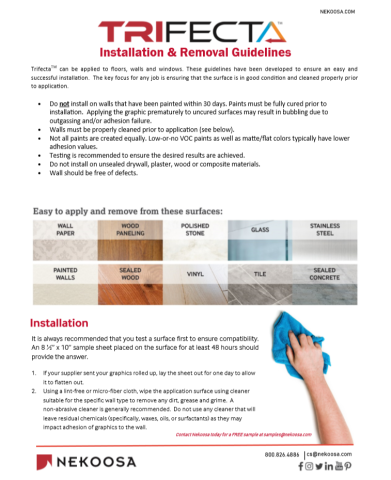 Trifecta™ Installation and Removal Instructions
Recommendations for installing Trifecta™, surface area chart and step-by-step tips on how to cleanly remove and install the substrate from floors, walls and windows.
Product
Trifecta™ 6 mil Matte White Textured Vinyl
Stocked in 54" x 100' wide format rolls
Custom sheeting options available
Compatible with eco-solvent, latex, UV wide format, UV offset and screen
---