Application Tapes and Premasks
RTape Block Out Tape
Blue self-wound polyethylene film with aggressive acrylic adhesive to use with conventional wooden framed screens. Forms solvent-resistant ink dam preventing leakage. Removes cleanly from mesh without leaving adhesive residue. Taping both sides of the screen withstands multiple washings.
Features
Aggressive acrylic adhesive
Self-wound polyethylene
Water based adhesive
Benefits
Removes cleanly from mesh with no adhesive residue
Withstands multiple washes
Designed for use with conventional wooden frames
Applications
Screen printing
Wooden frames
Aluminum, retensionable frames
Media
1 item available
Image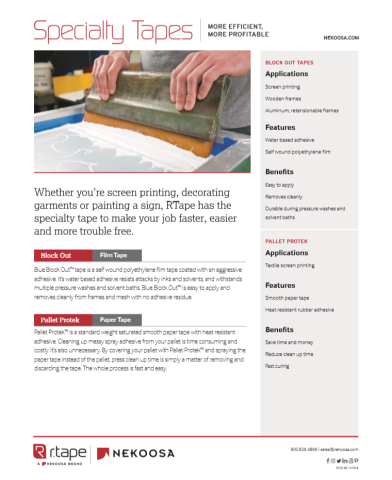 Specialty Tapes Product Overview
General product information, features, benefits, print compatibility and applications.
Product
Block Out Tape Blue Block Out 2000
Screen Block Out Polyethylene Tape
---