Graphic and Specialty Print Media
ThermaTac™️
A flexible vinyl film coated with a removable pressure sensitive acrylic adhesive and backed with a two-sided poly coated lay flat release liner.
Print Compatibility: Digital Dry Toner/Laser (65+ PPM)
Product Information
Proprietary clean striped edges protect from adhesive oozing that could cause machine contamination
Incredibly durable and waterproof
Suitable for indoor and outdoor applications (durable outdoors for <2 years)
Cleanly removable for <6 months
Available in frosty clear and white finishes with removable adhesive
Applications
Bumper stickers
In-store labeling and marketing
Parking permits
Name tags
Children's stickers
Identification labels
Seasonal signs
Window stickers oil change reminders
Media
2 items available
Image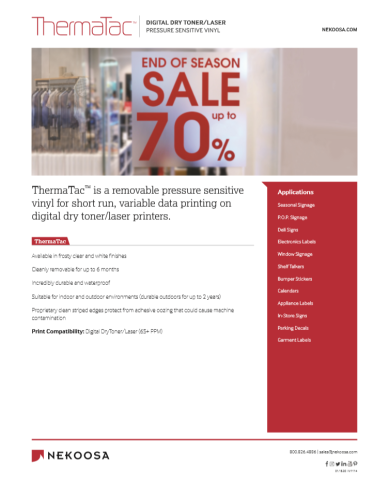 ThermaTac™️ Product Overview
General product information, features, benefits, print compatibility and applications.
Image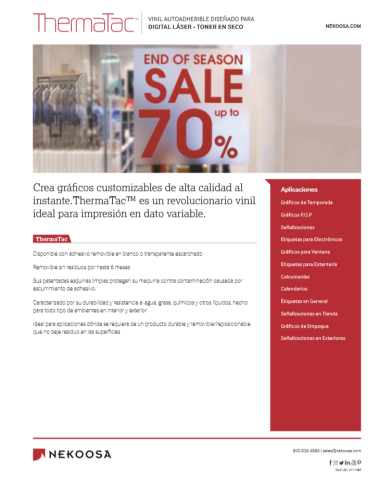 ThermaTac™️ Visión General del Producto en Español
Información General del Producto, Características, Beneficios, Compatibilidad de Impresión y Aplicaciones.
Product
ThermaTac Removable White Vinyl
3.5 mil. white calendered vinyl

---
ThermaTac™️ Removable Frosty Clear Finish
3.5 mil. frosty clear calendered vinyl

---