Graphic and Specialty Print Media
Eclypse™
Eclypse™ polymeric vinyl overlaminating films help extend the life and vibrancy of your graphics.
Features
Permanent non-yellowing, acrylic adhesive
Available in PVC and Polycarbonate
Chemical and UV Resistant
Benefits
Textured, glare free finish
Gloss, matte and luster finishes
Resistant to tunneling, crazing and stress whitening
Excellent performance on flat and curved surfaces
5 year outdoor durability
Applications
Digital prints
Screen printed graphic
Wall graphic
Retail P.O.P. posters
Promotional signage
Photographs
Trade show signage
Media
2 items available
Image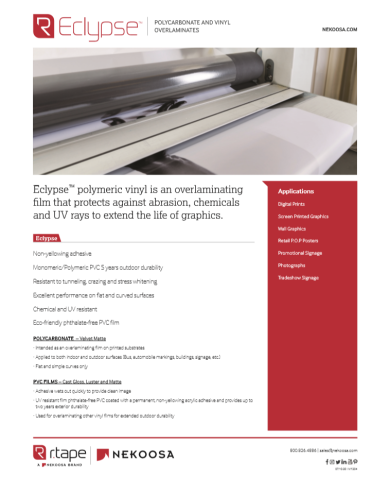 Eclypse™ Product Overview
Eclypse™ product overview with general product information, features, benefits, print compatibility and applications.
Image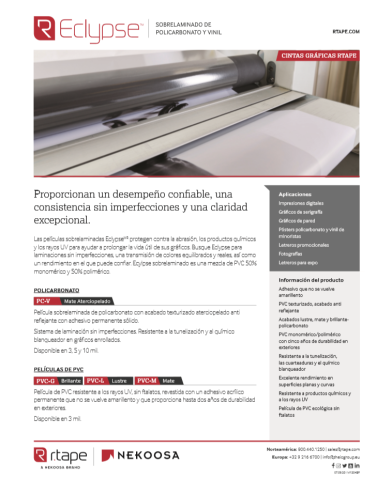 Eclypse™ Visión General del Producto en Español
Información General del Producto, Características, Beneficios, Compatibilidad de Impresión y Aplicaciones.
Product
Eclypse PVC Gloss Finish
3 mil. gloss clear calendared vinyl
78# paper liner

---
Eclypse PVC Luster Finish
3 mil. luster clear calendared vinyl
78# paper liner

---
Eclypse PVC Matte Finish
3 mil. matte clear calendared vinyl
78# paper liner


---
Eclypse Polycarbonate Velvet Matte
3 mil. velvet matte polycarbonate, Clear PET film liner

---
Eclypse Polycarbonate Velvet Matte
5 mil. velvet matte polycarbonate
Clear PET film liner

---
Eclypse Polycarbonate Velvet Matte
10 mil. velvet matte polycarbonate
Clear PET film liner


---